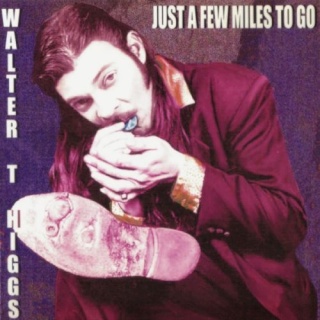 Artist: Walter T. Higgs
Title Of Album: Just a Few Miles To Go
Year Of Release: 2001
Label: Doc Blues
Genre: Blues
Quality: flac
Art:
scans
Notes: Good time Texas Blues is still alive and well in Austin, Texas, "The Live Music Capital Of The World". Known as one of the Lone Star State's best harp blowers and a longstanding stalwart of the Austin Blues scene, Walter T. Higgs is a prime perpetuator of the "Austin Sound". Higgs' fad-resistant sound, played with enormous conviction and great style, stands tall in an era of watered down rock imitators of "real" blues. True to the blues tradition yet open to innovation, Higgs' joyful romps on "Just A Few Miles To Go" pay homage to vintage styles while simultaneously recasting them into his personal fashion. All the of the songs are Higgs' originals, and many of the tracks clock in around the three minute mark, leaving no time or space for anything but strong and sincere statements. The songs reflect Higgs' ability to effectively meld all hues of blues, from the easy-rolling, autobiographical opener "Just A Few Miles To Go", to the gumbo groove of "See Ya Real Soon! ", to the jumping jive of "Shake Shuffle Shimmy", and finally to the horn-powered funk of the closing cut "Keep It Going On". Higgs fronts a talented cast of the blues elite of Austin, drawn primarily from the internationally renowned Austin blues club, Antone's. Combining decades of blues experience, veterans include venerated guitarist Derek O'Brien, producer/keyboardist Riley Osbourn, and the master rhythm section of drummer George Raines and bassist Larry Fulcher. The recording also thrives with the flair of guitarist Johnny Moeller, percussionists James Fenner and Bradley Williams, and the horn section of Mark Kazanov, Les Izmore, and Jimmy Shortell. This assortment of provincial performers perfectly frames Higgs' raspy world-traveled voice and soulful harp soloing. "Just A Few Miles To Go" proves that Texas blues music, when treated with respect for its pedigree and aspirations, remains vital and viable. "Just A Few Miles To Go" is truly music played real and from the soul.
Tracklist:
1. Just a Few Miles To Go
2. I Have a Dream
3. Too Many Women Knockin'
4. Shake Shuffle Shimmy
5. Don't Be Afraid
6. Is That a Teardrop?
7. Just How Bad I Feel
8. See Ya Real Soon
9. Chipped Off
10. Blues and the Gospel
11. Kiss Your Shoes
12. Keep It Going On